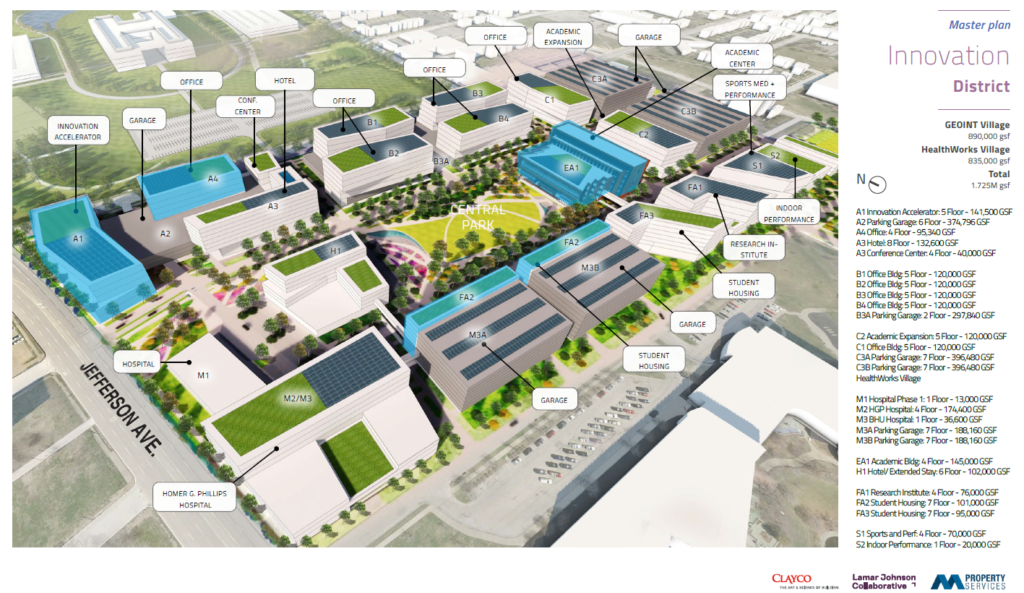 NorthSide Regeneration Innovation District
Within the 1,500-acre NorthSide Regeneration Project, the former 34-acre Pruitt-Igoe Housing Project has been designated as the Innovation District. The 34-acre site at the southeast corner of Jefferson and Cass Avenues is directly across the street and south of the new Next NGA West's (NGA) $1.75B project. The Innovation District grew from the cutting edge of science and technology driven by NGA and its future 7,200 associates. Within the Innovation District, there are two sub designations:
GEOINT Village: Directly fronting NGA West on the north half of the Innovation District
HealthWorks Village: Located on the south half of the Innovation District
The GEOINT Village includes over 890,000 SF of office buildings, a Hotel and Conference Center, retail and parking garages. There are three block areas within the Village:
A-Block: Includes the Innovation Accelerator Building (A1), Corporate Office Building (A4), a 200-room Hotel and Conference Center (A3) that includes two restaurants and bars and a 1,070-car parking garage (A2).
B-Block: Includes Corporate Office Buildings (B1, B2, B3, B4) plus a 1,584-car parking garage.
C-Block: Includes two Corporate Office Buildings (C1 and C2) plus two parking garages housing 1,659 cars (C3A and C3B)
HealthWorks Village Academic Healthcare Campus, 835,000 SF, 4-block area includes:
Ponce Health Sciences University Medical School (EA1)
Student Housing (FA2 and FA3) for 250 students
Ponce Health Sciences University Research Building (FA1)
Parking Garages for 1,239 cars (M3A and M3B)
Homer G. Phillips Full-Service Hospital along with a 40-bed Behavioral Hospital (M1, M2, M3)
Orthopedic Sports and Physical Therapy Center (S1 and S2)
Extended Stay Hotel (H1) tied into the hospital for orthopedic joint replacement patients
Central Park is located in the very center of the Innovation District. The four-acre park will be jointly owned and managed by the Innovation District Community Organization who will provide and ensure the park is maintained and available for use by all.
Joy 15, LLC is a St. Louis-based, family-owned holding company named in remembrance of a dear family member who died of cancer. Her motto to "Always Choose Joy" has become the driving force behind our business and the philosophy of our lives.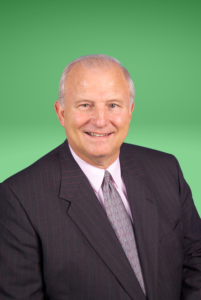 Paul McKee, Jr., P.E. is the Managing Member of Joy 15, LLC. Through his commercial development company, M Property Services (MPS), McKee has provided development assistance for more than 3,600 acres of sites and over 250 facilities in the St. Louis metro area, totaling more than $2 billion in market value.
In addition to his corporate work, McKee is involved in several community and charitable activities which reflect his interest in the community, as well as the health of St. Louis-area residents. Most notably, McKee was a founding member and served five years as Chairman of BJC HealthCare, one of the largest consolidated healthcare providers in the nation. He is also involved in the Lewis & Clark Leadership Forum, President Emeritus of Christian Health Services, National Society of Professional Engineers, Missouri Society of Professional Engineers, Former Young Presidents' Organization and Barat Academy.
McKee has a civil engineering degree from Washington University in St. Louis, MO and is a registered Professional Engineer in Missouri, Indiana, Iowa and Illinois.
WingHaven
WingHaven® is a thriving, 1,200-acre master-planned community in O'Fallon, MO that offers countless amenities and opportunities for residents and businesses. Whether you're active or actively seeking relaxation, WingHaven has something for every life and lifestyle, including two spas, six miles of jogging and walking paths, the full-service WingHaven Country Club with tennis courts, swimming pool, an 18-hole Jack Nicklaus-designed golf course, and much more. Residents can step out and explore one of four eclectic shopping and dining areas, or Labyrinth Park with its interactive fountain and nearby 14-screen movie theater and soccer fields. WingHaven is home to over 8,000 residents and 75 businesses (retail, medical, corporate and service) that include MasterCard's Global Technology and Operations Headquarters, Nordyne, Inc., Midwest Bank Centre, Time Warner Telecom and Webster University.
NorthSide Regeneration
NorthSide Regeneration's vision is for a large-scale and holistic transformation of a two-square mile section of North St. Louis City. With a development plan covering over 1,500 contiguous acres all located less than a mile from Downtown St. Louis, The Gateway Arch and Busch Stadium – and with $390 million TIF approved for public infrastructure improvements – NorthSide Regeneration provides a unique and remarkable opportunity to apply new technologies in health, energy, transportation, housing and education. To date, $107 million in private investments have funded the acquisition of 2,300 individual lots, development planning and site clean-up. Construction of a $1.7 billion National Geospatial-Intelligence Agency (NGA) West Headquarters is underway on a 100-acre site within the development that would support 7,200 jobs with an average salary of approximately $95,000. Additional plans for NorthSide Regeneration include 3 million square feet for offices, 2 million square feet for retail, 1 million square feet for tech, 3,000 market rate residential units and a primary care hospital. For more information about NorthSide Regeneration, visit www.northsideregeneration.com.
NorthPark
NorthPark, developed in partnership with Clayco Realty Group, is located adjacent to the University of Missouri – St. Louis and St. Louis Lambert International Airport and offers over 5 million square feet of development opportunity, right in the hub of a well-connected and up-and-coming business district in north St. Louis County. With seven projects completed and over 2 million square feet of development constructed to date, NorthPark is the premier business park in St. Louis, and one of the only urban redevelopment projects in the country located between the intersection of two major highways, an international airport and a renowned university. Future suburban amenities within NorthPark will include retail stores, restaurants and cultural activities and experiences for tenants and visitors, as well as green space and walking trails created by the Great Rivers Greenway. Already home to Express Scripts Corporate Headquarters, Express Scripts High Volume Filler, Hilton Garden Inn, Vatterott College, Toro, Schnucks, Staples and SKF, NorthPark has already brought more than 7,000 jobs to the St. Louis area.